SHORTLIST: UEFA GOAL OF THE SEASON 2018/19; UEFA has shortlist for the goal of the season award for 2018/19. this list encompasses both men's and women's football as well as club and international UEFA competitions. Click here to watch all the goals and vote for your Goal of the Season.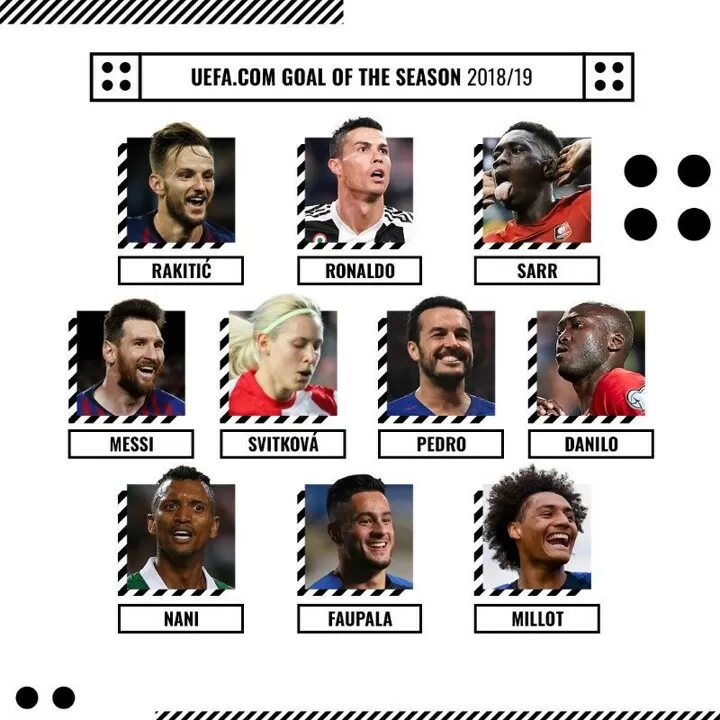 The shortlist is from the Champions League, the Europa League, the European Championship qualifiers, the European Under-17 Championships and the Women's Champions League.
UEFA's official website, where fans can vote for their favourite score, all of Cristiano Ronaldo, Danilo, David Faupala, Enzo Millot, Ismaila Sarr, Ivan Rakitic, Katerina Svitkova, Lionel Messi, Nani and Pedro Rodriquez were nominated.
Ronaldo's nomination came as a result of his fantastically taken volley in the group stages of the Champions League against Manchester United at the Juventus Stadium, while his Portuguese compatriot Danilo's came in a European qualifier against Serbia.
Arsenal fans will remember all too well the exploits of Ismaila Sarr, and Rennes fans will never forget his staggering half-volley against Jablonec in the Europa League group stage.
Nominees in full
1. Danilo (PORTUGAL 1-1 Serbia)
European Qualifiers matchday two, 25/03/19
2. David Faupala (APOLLON 2-0 Lazio)
UEFA Europa League group stage, 29/11/18
3. Lionel Messi (BARCELONA 3-0 Liverpool)
UEFA Champions League semi-finals, 01/05/19
4. Enzo Millot (FRANCE 6-1 Czech Republic)
UEFA European Under-17 Championship quarter-finals, 12/05/19
5. Nani (Qarabağ 1-6 SPORTING CP)
UEFA Europa League group stage, 29/11/18
6. Pedro Rodríguez (CHELSEA 4-3 Slavia Praha)
UEFA Europa League quarter-finals, 18/04/19
7. Ivan Rakitić (Tottenham 2-4 BARCELONA)
UEFA Champions League group stage, 03/10/18
8. Cristiano Ronaldo (JUVENTUS 1-2 Manchester United)
UEFA Champions League group stage, 07/11/18
9. Ismaïla Sarr (RENNES 2-1 Jablonec)
UEFA Europa League group stage, 20/09/18
10. Kateřina Svitková (SLAVIA PRAHA 1-1 Bayern)
UEFA Women's Champions League quarter-finals, 20/03/19
SHORTLIST: UEFA GOAL OF THE SEASON 2018/19
Tags: Cristiano Ronaldo, Danilo, David Faupala, Enzo Millot, Ismaila Sarr, Ivan Rakitic, Katerina Svitkova, Lionel Messi, Nani and Pedro Rodriquez